I had the privileged to be on The Intelligent Investing Podcast with Eric Schleien (GSCM) to talk about the cannabis industry. As I'm writing this, there's no industry with a greater buzz than cannabis. The cannabis sector has been on a two-year high. Cannabis related stocks are trading at sky-high valuation. "The sky is the limit" as the saying goes. Since August, the segment has surged to a new level of hysteria on a wave of announcements. The sector got a boost when Constellation Brands (STZ), the brewer of Corona and Modelo, agreed to add $4 billion to its investment in Canada's lead weed company Canopy Growth (CGC, WEED). The hysteria got a new boost when Coca-Cola (KO) confirmed an interest in spiking sports drinks with cannabidiol (NYSE:CBD), the non-psychoactive ingredient of marijuana. And thanks to the DEA approving Tilray's (TLRY) plan to import pot from Canada, a company with just $20 million in first-half revenue was briefly worth $30 billion.
I'm in Canada, and I have a first row seat to the mania. It's easy to see why investors got interested in marijuana. Marijuana has a hand in two worlds, fun and health (or consumer discretionary and medical to be more proper). At Tim Horton's coffee, I overheard a conversation of older men talking about marijuana stocks, and that was a couple months ago. With the income they made they probably upgraded their chat to Starbucks. People that have never bought stocks in their life are now making money on pot. I was reading that interest in self-directed investing is rapidly growing. A lot of these new accounts are young millennials picking marijuana stocks for the first time.
Marijuana is in the middle of re-branding their image. Once a batch of small, highly risky stocks that traded on obscure exchanges, cannabis shares are reaching a new level of maturity. And with the U.S.' federal drug laws mostly dissuading companies to list on country's stock exchanges, they've found a home on the Toronto Stock Exchange (TSX) and other Canadian markets.
As Canada prepares to legalize weed nationally, a multi-billion-dollar investment boom is underway in North America. Canada's legal marijuana industry is poised to transform from a multimillion-dollar market serving thousands to a multibillion-dollar market serving millions - and investors are hoping to profit from that sea of change. Entrepreneurs and investors are rushing headlong into the nascent legal marijuana industry, fueling a stock craze reminiscent of the late 1990s dot-com bubble and the recent bitcoin mania. Investment opportunities to create new businesses have never been more compelling.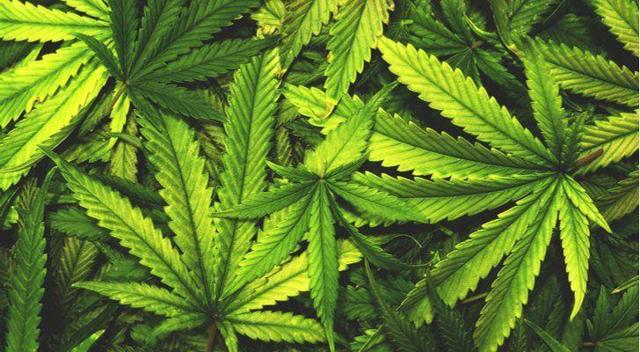 >Source: Shutterstock
Legalization and First-Mover Advantage
Fulfilling an election promise by Prime Minister Justin Trudeau, Canada is preparing to fully legalize the drug for adult recreational consumption on October 17, 2018. Canada is only the second country to do so after Uruguay (legalized in 2013), and the first developed country. Canada's industry will also be the litmus test for whether governments can stamp out illicit sales, transfer billions of dollars in revenue to an emerging industry, generate taxes and create jobs. The Canadian government estimated last year it expects to initially collect roughly CAD$400m (USD$300m) a year in tax revenue from marijuana. Canada's provinces will get three-quarters of the annual receipts.
Fresh or dried cannabis, cannabis oil, and plants and seeds for cultivation will be allowed initially. Edible products, drinkable cannabis and concentrates will be legalized later. Concentrates and extracts will not become legal until the federal government sorts out a legislative framework for them in about a year. The government has the desire to make edibles and extracts safe.
Canada has a head-start to becoming the world's preferred supplier. About 30 countries are currently considering legalizing medical marijuana. The pending change has touched off an investment boom and pushed up valuations of Canada's cannabis producers. They're enjoying a first-mover advantage as medical and recreational pot gain traction from the U.S. to Germany.
Canadian Exchanges: The Place for Pot Stocks
In the U.S., due to federal regulation, U.S. listed stocks cannot have any operations in the U.S. without losing their listings, whereas Canadian listed stocks can have U.S. operations. However, U.S. exchanges list shares of some companies indirectly involved in the pot business, such as real-estate firms that lease sites to marijuana growers.
When Canada passed legislation in late June to legalize marijuana use, there were seven billion-dollar cannabis stocks; six of them traded on the Toronto Stock Exchange (TSX).
MedMen Enterprises Inc., which calls itself "the largest weed company in the United States," listed on the Canadian Securities Exchange (NYSE:CSE) at the end of May 2018. CEO Adam Bierman said "we have to end Prohibition first" before considering a listing on the NYSE or Nasdaq Stock Market.
The CSE, which bills itself as "the Exchange for Entrepreneurs", but better known has the "the cannabis or cryptocurrency exchange", has just over 400 stocks, none of which are close to $1-billion in valuation, with cannabis companies accounting for nearly one-fifth of its listings. The CSE even provides a pdf list of the cannabis stocks that are listed on its exchange. Roughly half the trading activity on the CSE is sourced from marijuana-based businesses. Usually, what happens is if the company grows enough it will get up-listed to the TSX Venture Exchange, exposing the company to significantly more domestic and international investors.
Below is a screenshot taken on Friday, September 27, 2018, of the top 10 trending stocks on the TSX. On the list, there are seven cannabis related stock, including the first 6.

Source: TMX Money.
Meanwhile, the manifest hunger of American investors for U.S.-listed cannabis stocks has catalyzed other big Canadian firms to secure U.S. listings. While Canopy Growth (WEED), Tilray (TLRY) and Cronos Group (CRON) are already dual-listed in Toronto and the U.S., top-five producer Aphria (APH, OTCQB:APHQF) and Aurora (ACB, OTCQX:ACBFF) are reportedly close to a dual listing.
The Situation in the U.S.A.
Attorney General Jeff Sessions said in 2016 "Good people don't smoke marijuana". His views on pot are probably from the 1936 black-and-white cult film "Reefer Madness," a cautionary tale of corrupted teens that has demonized the public's perception on pot. With so many states legalizing weed for medicinal and recreational purposes, it is currently classified a Schedule I drug by the Federal authorities, the most serious category of illegal substances with heroin and ecstasy. The weed extract cannabidiol (CBD), a compound that doesn't get you high and shows great medicinal promise, is also Schedule I. For comparison, cocaine, meth and oxycodone are Schedule II drugs. Why is this relevant? Marijuana's presence on Schedule I has kept some U.S. banks, institutional investors and credit card companies away from the business. And if you can't have a bank account, it's difficult to do business.
Against states' wishes, the U.S. Department of Justice moved to override former President Barack Obama administration rules discouraging prosecution of weed growers, sellers and users. Marijuana was outlawed in the U.S. in the 1930s, at about the same time that a 13-year prohibition on alcohol was overturned through a constitutional amendment. While marijuana remains illegal on the federal level, President Donald Trump appeared to get out of the states' way when he endorsed allowing them to decide how to regulate the drug.
Source: NYT
Despite the Attorney General's stance, Americans have changed their minds about marijuana. In less than a generation, public opinion has turned sharply away from prohibition and penalties in favor of legalization. Voters in nine U.S. states and the District of Columbia have legalized pot for recreational use, permitting 20% of Americans to consume weed freely. 30 states now allow some form of cannabis use. Momentum around medical marijuana is sweeping the U.S.: Oklahoma, one of the most conservative states, recently legalized medical marijuana for patients.
According to Bloomberg, the U.S. legal cannabis industry is gaining economic and political clout. It employs more than 200,000 workers and is on track to generate $11 billion in legal sales in 2018, a figure that could reach $75 billion by 2030, by one estimate. It also provides a tax-revenue windfall: Colorado collected nearly $250 million in state taxes and fees from the cannabis industry in 2017, a 90% jump from two years earlier.
Because it is illegal in the U.S., 96% of global cannabis investment went to Canada according to CB Insights.
The Medical Opportunity
Millions of people are already using medical cannabis to treat a variety of conditions but "official" research has been non-existent to weak, but it's changing. The campaign to allow marijuana products for medicinal purposes is gathering pace. Therapeutic effects of cannabis on various chronic conditions are being studied more closely as alternatives to conventional medications. One of the biggest potential upsides to cannabis is in pharmaceuticals, where cannabis-derived products could act as substitutes for prescription painkillers and opioids. Research into cannabinoids is fantastic opportunity to support the growth of the medicinal side of the cannabis industry.
The medical research now underway is driving international regulatory changes. And it's not the black market that will pay for those studies. Now, it's companies that can actually fund them. Global Market Insights estimates that the size of the global medical marijuana market to surpass $55 billion by 2024. I don't know how accurate that number is but it's reasonable to think that the world of medical marijuana is a multi-billion environment.
Now that the DEA is permitting pot imports for medical research and the FDA has begun approving cannabis-derived products, like Epidiolex by GW Pharmaceuticals (NASDAQ:GWPH). Epidiolex just became the first of its kind to get the green light from the U.S. government and experts predict an avalanche effect. The approval of Epidiolex will open the doors to cutting-edge research on cannabinoids, presenting a huge opportunity for biotech and pharmaceutical companies. A lot of companies are working on developing intellectual property around the CBD compounds, which can be turned into effective drugs or treatments.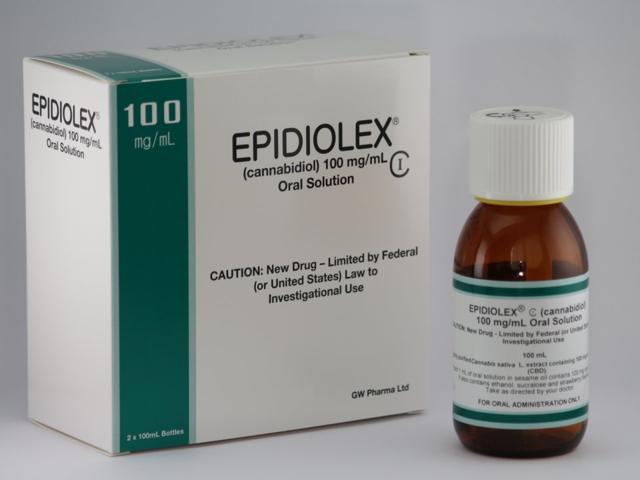 >Source: GW Pharma
Cannabis has more than 400 compounds, each of which is potentially responsible for a distinct effect, of which CBD and THC are only two, and researchers think the others could hold promise as well.
Researchers are only beginning to uncover that marijuana has a wide variety of potential medical applications, from relieving pain and nausea to reducing the symptoms of rare diseases like childhood epilepsy. The medical community and some state governments now recognize cannabis as a treatment for certain cancer-related symptoms. There are even companies looking into veterinary products for pets. These benefits are emerging just as scientists are uncovering huge downsides to traditional medications like opioids. According to a November 2017 White House report, the opioid epidemic costs our country ~$500 billion per year (and that cost is growing exponentially). It might be in the interest of the U.S. government to look at cannabis as a potential solution to some opioid problems.
Market Valuation
According to New Frontier Data, the size of the Canadian marijuana market is expected to be to CAD$9 billion by 2025 after legal recreational sales begin. According to Stats Canada, the current market is around CAD$5.7 billion, mostly from illegal sources. The current market cap of cannabis related stocks is ~CAD$60b. Stats Canada also found that the money spent on cannabis last year is less than the CAD$16 billion worth of tobacco purchases; CAD$9.2 billion on beer, CAD$7 billion on wine, but more than the CAD$5.1 billion spent on spirits.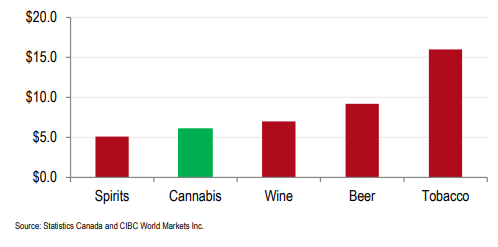 According to research by CIBC, retail sales should be around 800,000kg and producers should get 36% of the retail price. EBITDA should be around $860m in 2020. This suggests that the current market cap of cannabis stocks is currently valued at 70x 2020 $860m EBITDA, a generous multiple. But the market is looking beyond Canada. Canada is a drop in the bucket in terms of marijuana sales. The international story could be 5x to 10x bigger than Canada once medical cannabis makes it way. However, the exportation of recreational marijuana is currently prohibited. Other countries will eventually have their own local producers.
Moreover, there's reason to believe these forecasts are overly optimistic. Canada is heading towards a surplus of cannabis produce with all the construction of the greenhouses. Cowen & Co. believes that between 2021 and 2025, prices will fall 8% per year, from $8 to $6.83 per gram. Canada's market should also be well-supplied. There were four licensed producers when Health Canada began handing out licenses. Today, there are 120. I've seen some estimates indicating that expected production of 1.8m kg is double the expected demand. Canada's leading cannabis companies are "licensed producers" that make most of their money growing marijuana. At first, a significant increase in demand will initially come from the Canadian legal consumer use market. Canadian investors have given cannabis companies enough dirt-cheap capital to build more production than the world has ever seen, for a market already well-supplied by illegal growers. Once all the new greenhouses start budding, Canadian weed prices might tumble.
To guess these companies' fair value, it makes sense to look ahead to what the industry might look like after recreational sales kick in. That is to establish medical cannabis production in foreign markets, including Germany, where pharmacies prescribe it and health insurers pay for it. The international opportunity is baked in the current share price and reflects a level of enthusiasm and optimism about the world market
The Accounting
As Canadian-listed companies, many use International Financial Reporting Standards (IFRS), which have particular rules about agricultural assets. The guidelines favor a fair-value model used by the agricultural industry, which requires companies to place a value on plants while they're still in the ground. This leaving companies open to big write-offs and a lack of financial clarity. Basically, marijuana financial statements have absolutely nothing to do with reality and are not very helpful to anyone.
The U.S. uses GAAP. IFRS says fair value is more relevant, GAAP prefers a cost-based approach. Under IFRS, cannabis producers report the unrealized, non-cash change in the fair value of their cannabis plants as they grow, relative to their theoretical selling price. This requires management to make several estimates, including growing, harvesting and selling costs; projected plant yields; and the price the drug will sell for. That's assuming the plants don't succumb to rot or mold.
Because the unrealized value of the plants is factored into gross profit, a company that's adding plants faster than its selling inventory - which is almost every producer in the fast-growing industry - can end up reporting gross margins of more than 100 percent. In theory, non-cash income could even be reported without selling a single gram of pot.

>Source: Aurora Q4-2018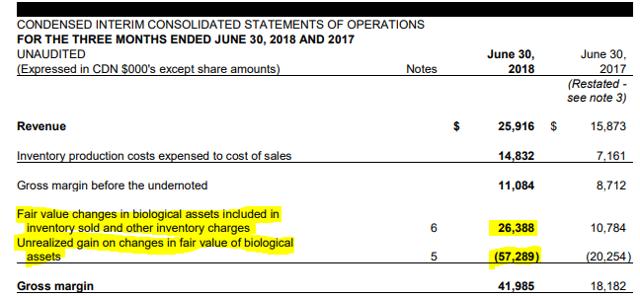 >Source: Canopy Growth Q1-2019
There's also a need for standardization across the cannabis industry. In their MD&A section, Aurora, Aphria, and Canopy all break out their numbers differently. Each company makes slightly different assumptions and breaks out slightly different numbers than its competitors. You are not getting an apple to apple comparison. Aurora Cannabis Inc. specifies its cash cost of sales and cash cost to produce dried cannabis, while Aphria details its cost per gram, gross profit before fair-value adjustments and several other metrics. Canopy, meanwhile, began breaking out its cash gross margin, subtracting the effects of IFRS fair-value accounting.
Licensed producers need to clearly articulate how they plan to rein in millions of dollars of operating expenditures per quarter to a level that will be more sustainable when prices drop in the legal recreational market. Companies are not required to report a cost per gram metric. Aphria does break down the cost because it claims it is the lowest cost producer. So, in a sense, they welcome the measure. If other marijuana companies were compelled to report the metric, it would highlight how favorably Aphria's costs stack up. According to Vic Neufeld, the CEO Aphria, reporting costs would encourage producers to drive expenses down and make his competitor's operations more viable in the long term - something he believes is necessary for the industry to meet projected demand.
But does it matter? I highly doubt that the large majority of marijuana investors even looked at a 10-K, let alone understand the components of the IFRS.
The Players
Below are some of the main cannabis companies currently trading. This is a quick overview of some of the companies, and I highly recommended digging deeper. The big four weed companies in Canada are gearing up for what they hope will be a large market for recreational use, but they all have gotten their starts as licensed producers of medical marijuana. Below is a chart of the cannabis industry comparables. I should mention that the numbers below are subject to change due to the rapid pace of the cannabis industry. Everyday there are new announcements, new products, new companies and new acquisitions.

>
I won't comment on the current valuation of some of these companies because I think it's unfair to judge them because recreational marijuana is even legal. Investors are buying cannabis stocks for its future potential, not its historical track record. Current reported sales are a fraction of what these companies anticipate once it is legal.
Below are info on some of the main players:
Canopy Growth
Canopy Growth, which operates out of the former Hershey chocolate factory in Smiths Falls, Ontario, is now a $14 billion company. They have turned the former chocolate factory into the biggest grow-op company in the world. Canopy is ahead of its competitors in many departments but its high valuation can cause dizziness. Constellation Brands also own 38% of the company.
Canopy is a first class company. They are focused on product developments, R&D, and innovation. They have an international footprint. Canopy, which was started in 2013, sells medical marijuana products-including dried flower, oils and capsules-in Canada, Germany and the Czech Republic and is preparing to sell medical products in several others. Meanwhile, it is set to launch recreational products in Canada once legalized. Once recreational sales start, Canopy Growth will be ready with an Amazon.com e-commerce site called SpectrumCannabis, featuring company brands like Tweed or Leafs by Snoop (yes, as in Snoop Dogg), as well as small-batch specialties from "craft" growers. Food scientists at Canopy's Smiths Falls plant are spending Constellation's money to develop edible and potable products, including nonalcoholic, THC-fueled versions of beer, gin, and vodka.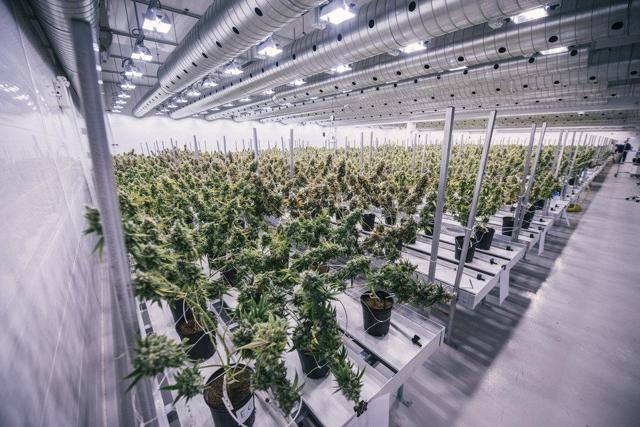 >Source: Canopy Growth
Because of its size and reputation, Canopy has access to capital, provides a national platform, had 30% of the medicinal cannabis market, and is internationally diversified. No other producer has the infrastructure of Canopy. The company plans on having 5.6 million square foot and will probably produce nearly 750,000 kilograms of cannabis a year by some estimates. Canopy's ambition is nothing short of establishing the world's leading cannabis corporation.
Canopy's huge price-to-sales ratio of 164x, however, provides an indication of the extraordinary growth that is already reflected in the stock price. The company could exceed these high profit expectations - it's hard to know in an industry that's brand new in a legal and financial sense - but any disappointments will likely be treated harshly by markets. Investors should be very careful about how much they are willing to pay in terms of valuations to go along for the ride.
Canopy Rivers Inc. (RIV, OTCPK:CNPOF)
Canopy Rivers is now a separate and public company since September 20, 2018. Canopy Rivers is a company that invests in other companies in the cannabis industry and taps the expertise of Canopy Growth in production, plant genetics, retailing and branding. In return, Canopy Growth gets access to product it can sell through its craft channel and a right to do a deal with the portfolio company in the future. Bruce Linton says he hears a lot of pitches from marijuana upstarts all over the world. Here's a short video from Linton explaining Rivers. Three-fourths of them are looking for some money and a little help but want to keep control of their businesses. But Canopy Growth doesn't want to own small portions of these startups. Rivers has made 12 investments so far.
Canopy Growth owns 25% of Rivers, but controls almost 90 per cent of the votes through a dual-class share structure that thwarts a hostile takeover from succeeding. Rivers makes investments through a mix of equity, debt, royalty, joint ventures and income-sharing structures. The royalty, for example, includes a per gram fee with a minimum yearly payment for a handful of cannabis growers in its portfolio, generating cash flows. By not putting its eggs in one basket, Rivers says that this lowers the risk that lower yields, crop failures, delays or recalls could have on its potential returns.
What's gives Rivers an advantage in foreign countries over other companies is the credibility that Canopy brings.
Aurora Cannabis Inc. (ACB)
The 2nd biggest licensed cannabis producer in Canada by market cap, Aurora Cannabis doesn't lack ambition. Their company is brasher and more aggressive than its bigger rival Canopy. Aurora Cannabis brags that it grew to Canopy's size in half the time.
Aurora has traditionally focused on medical marijuana products, but the legalization of cannabis for recreational use in Canada is pushing the company to diversify its holdings. Aurora Cannabis is going big on production and acquisitions. Aurora is most interested in picking up companies that are already up, running and bringing in cash. The company is using its expensive share price to make acquisitions at an extremely rapid pace.
CB Insights mapped Aurora's recent deals across the cannabis supply chain to analyze how this marijuana company is gearing up for the gold rush. Aurora has a stake in every step of the marijuana supply chain. Aurora has invested heavily in other weed businesses and the total value of the company's investments in public companies was worth more than CAD$700 million. Aurora recently bought MedReleaf for CAD$3.2 billion and CanniMed for CAD$1.1 billion.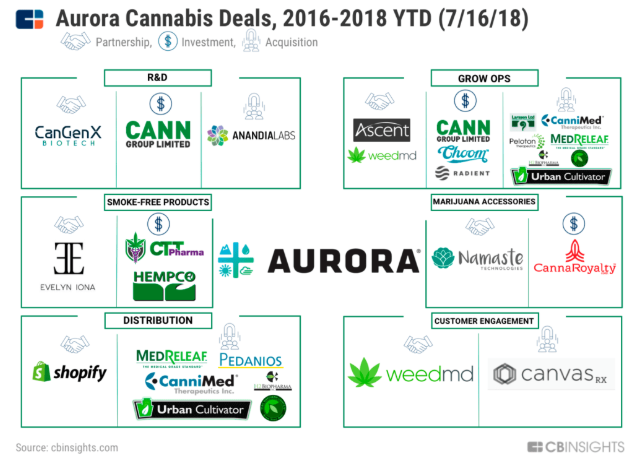 Source: CB Insights
Aurora has been using these investments to establish partnerships that could prove useful as cannabis becomes legal. On a recent earning call, Aurora CCO Cameron Battley said "Beyond simple fee-to-sale, Aurora has established a deep presence in every aspect of the cannabis industry value chain. This includes plant genetics and industry leading research, facility design, extraction and formulation right through the consumer engagement and point-of-sale."
Aurora has talked about having a U.S. listing like rival Tilray, Canopy, and smaller player Cronos, which would give it more market exposure.
With an expected production of 570,000kg, at a price of $4 to $5, Aurora could have revenues of $2.3b to $2.8b per year. With a market cap of $11 billion, it exceeds by $8.2 billion the amount of weed Canadians consumed in 2017 of $5.7 billion. There are also doubts that investors will benefit that with the amount paid for MedReleaf and CanniMed at 24-25x EBITDA, or 8 times revenues. When CEO Terry Booth was asked a simple question by an analyst, to explain which metrics he used to value his $3.2-billion takeover of MedReleaf, Terrys said "Metrics ...that's our secret." It didn't get better when CCO Battley was asked for cost savings from the merger, he didn't have much to say, either: "We don't have an exact calculation of the synergies," he said.
I would be careful because investing in Aurora. They are selling a story. You are buying hype. Instead of worrying about revenues and profit, the company wants everyone to know how big it. Of course, discussions with Coca-Cola (NYSE:KO) brought a new buzz that pushed the stock to a new high. Aurora said that they are on the hunt for more deals, the more premiums Aurora pays, the more existing shareholders will be diluted.
Aphria
Aphria has a market cap of $4 billion. Even though I think the valuation is high, I believe Aphria is underestimated by the market for his approach. It's a very efficient producer. The company says it aims to be a low-cost producer by sticking with greenhouses, instead of the more expensive indoor facilities. Instead of using energy intensive grow-up warehouses, the greenhouses provide natural light. Management has come up with many creative ways to improve efficiency and keep operating costs down. Because Aphria uses natural light, electricity cost at 1/12 of interior grown ops. They also use less fertilizer. Instead of buying fertilizer, they purchase the root chemicals and make their own. Aphria is the first of Canada's major marijuana companies to try producing pot in a greenhouse. But rivals have started to follow suit, including industry leader Canopy Growth and Aurora. A greenhouse is also much easier to scale than an indoor facility. Aphria estimates that it cost $55 per square feet for a greenhouse, versus interior grow-op which could cost between $250 to $300 per square feet.
Aphria has been cash flow positive for many quarters. Success in this business will be all about expanding scale and lowering costs and Aphria knows that.
The Hydropothecary Corp. (HEXO)
The Hydropothecary Corp. recently changed their name to HEXO. HEXO has a market cap of $1.5 billion with expected 2019 revenues of CAD$190m and CAD$60m in 2019 EBITDA. The Quebec licensed producer predicts it will gain a market share of 8% within 3 years, thanks in part to its contract with the Quebec government cannabis stores. HEXO has also entered in a supply agreement with the Ontario Cannabis Store.
HEXO is much smaller than Canopy and Aurora. HEXO is currently expanding its annual production capacity to 108,000 kg of dried cannabis per year. HEXO's cash cost of dried inventory sold per gram was $0.88. This is very low. But as I mentioned earlier, there are no standardized measures for cash cost of inventory per gram in the cannabis industry.
On June 22, 2018, HEXO graduated from the TSXV to the TSX. Graduating to the TSX presents the opportunity for increased access to capital, greater market visibility, enhanced reputation in meeting the required standards of a senior exchange and increased liquidity on world markets.
HEXO recently set up a JV with Molson to produce and sell non-alcoholic cannabis-infused drinks in Canada. I talked about it on more details later in the article in the Molson section.
HEXO is also attracting the attention of activists. Riposte Capital published a letter in September criticizing HEXO's "severely depressed valuation" despite its joint venture with Molson Coors and its supply contract with Quebec, estimated to be worth $1 billion. Riposte says it owns less than 5% of HEXO and is the second-largest shareholder at the company. Riposte "conservatively" calculated current intrinsic value for HEXO is $18 per share, based on a sector average multiple of 30x 2020 EV/EBITDA (I have 32x 2020 EV/EBITDA in my table above).
I read the letter and I don't agree with the assessment. HEXO doesn't suffer from a "severely depressed valuation". It's true that HEXO is trading at lower levels compared to its some of its bigger competitors, but it doesn't mean the competitors higher valuation is warranted.
From the letter:
"Yet HEXO trades at an EV/EBITDA multiple of just 8.1x 2020 consensus EBITDA - a mere fraction when compared to Tilray at 93.8x, Canopy 89.2x, Aurora at 27.2x, Cronos at 23.7x and Aphria at 19.5x."
Riposte is up on their investment. HEXO was trading at $5.75 when the letter was published.
Tilray
Tilray, a startup backed by billionaire investor Peter Thiel, had just $20 million in first-half revenue, was briefly worth $30 billion during a wild ride in mid-September. That's more than Twitter, CBS, Harley-Davidson, Fitbit and American Airlines. At its height Tilray's enterprise value surpassed 85x bullish estimates for its 2020-year sales and 340x that year's estimated cash flows. It was valued above larger, more established rivals like Aurora Cannabis and Canopy Growth. Tilray grows marijuana in Canada and is one of just a few pot companies listed in the U.S. The stock exploded after announcing it had received permission to export a small amount of cannabis to California for a medical study.
Below is a chart of the volatile week Tilray had back in September.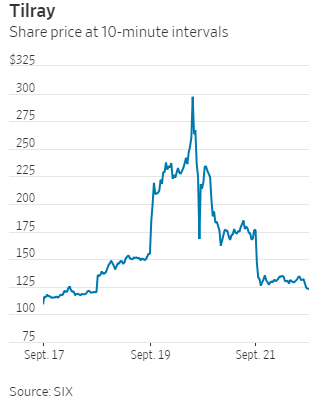 Tilray makes medical cannabis in 9 distinct "profiles." Each profile has either THC and CBD with varying potency doses. In March 2018, Tilray formed a strategic alliance with pharma company Sandoz Canada, a part of the Novartis Group, to create medical cannabis products.
Tilray shares may be benefiting inordinately from their scarcity. The company's U.S. IPO provided only 6.5 million shares, a small float that makes the stock hard to buy, borrow or sell short.
Citron, a prominent American short-seller, takes aim at Tilray Inc. less than a week after sounding alarm on Cronos. Citron twitted "by far the most expensive in the space,"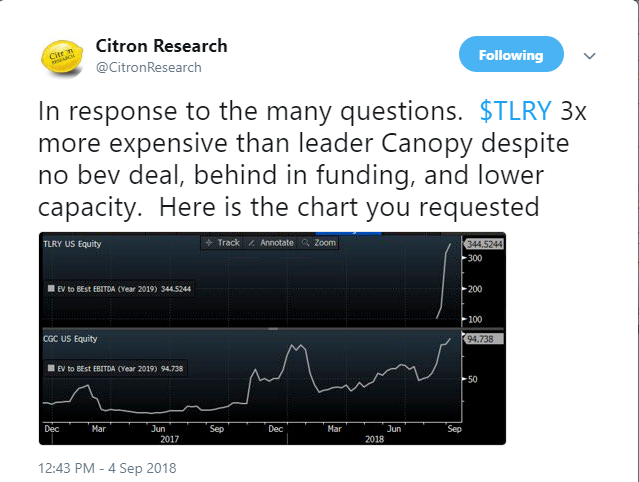 Source: >Citron Research.
But apart from the manifest demand of spirited retail investors, it's hard to see why an investor would buy Tilray stock at the current level. The company compares poorly with its large rivals. Per gram sold, Tilray has the highest cost-of-goods among large producers. And while other licensed producers ramp up inventories, Tilray's production and inventory both declined in the latest quarter. International revenues, in the quarter, were all of $345,000. I suggest to stay away.
CannaRoyalty (CRZ, OTCQX:CNNRF)
CannaRoyalty is a fully integrated, active investor and operator in the legal cannabis sector. They have a different business model. It's a platform of holdings via royalty agreements, equity interests, secured convertible debt, and licensing agreements in various businesses in the United States and Canada.
CannaRoyalty started out as a financing play as a royalty trust on cannabis, a traditional source of capital in Canada's speculative junior mining sector. The company provided funds to other marijuana businesses in exchange for a share of future revenue. The amount of capital provided determines the % royalty charged and the number of years for which the royalty is paid.
CannaRoyalty also invest directly in cannabis businesses through equity or in the form of a convertible debt.
Now, CannaRoyalty is focused on California. CannaRoyalty expanded in the U.S. by being a distributor of legal cannabis products. All licensed dispensaries in California are required to source products exclusively through licensed distributors. California is the world's largest marijuana market.
CannaRoyalty has a market cap of $400m, so it's much smaller than the companies mentioned above.
Alternatives
Below I'm proposing alternative ideas to the fly high stock prices of the conventional marijuana stocks. I want to highlight that they are ideas, not recommendations. They are not get-rich-quick propositions. During the gold rush the people that made money provided the pick and shovels. The ideas below are akin to the pick-and-shovel approach. Basically you invest in companies related to the marijuana industry instead of investing directly in the expensive cannabis stocks. The ideas below are not pure play. They are a wide range of companies that wants some exposure to the cannabis sector.
Here are a few ideas to dig deeper:
Constellation Brands Inc.
Constellation Brands Inc., whose stable of products includes Corona and Modelo beer, sank nearly $200 million into Canopy Growth back in October 2017, and an additional $3.88 billion last August, raising its stake to 38%. The deal gives Constellation the right to invest another US$3.4 billion to acquire a controlling stake. The warrants, if exercised over the next three years, would give it more than a 50% stake in the company. The deal also gives Constellation the right to nominate four directors to Canopy's seven-member board.
Constellation's president, Bill Newlands, told investors recently that the company is expanding into cannabis products through Canopy because it believes more countries will open their doors to medicinal or recreational sales, and the global market "could be a $200 billion business in very short order." Constellation has plans to work with the grower to develop and market drinkable cannabis products that don't contain alcohol.
The reality is that overall beer consumption in the U.S. is in decline, as consumers abandon American lagers for wine, spirits and nonalcoholic drinks. Cannabis is "the logical fourth leg" for the beer, wine and spirits company, giving Constellation a "total mood-modulation portfolio," said CEO Rob Sands.
While the price paid for Canopy was excessive (104.6 million shares at CAD$48.60), I remain constructive on the longer-term opportunities this investment could yield and appreciate the firm's efforts to be an early mover into this developing category.
Molson-Coors (TAP)
The brewer's pivot follows similar moves by brewer Constellation Brands. Molson Coors has been in the spotlight for its recent joint venture with Hydropothecary Corp. (HEXO), targeting to produce and sell non-alcoholic cannabis-infused drinks in Canada after legalization. In the JV, Molson will have a 57.5% interest in a standalone startup company with its own board of directors.
The JV, which will operate as a standalone company, will explore opportunities in the highly anticipated consumable cannabis market.
Molson is seeking exposure to the marijuana space for growth. Molson's shares have decreased 25% year to date, reflecting a significant underperformance from 15.7% decline recorded by the beverage-alcohol industry. Molson is focused on cost savings and premiumization.
While on the topic of brewers, Heineken NV (OTCQX:HEINY), whose Lagunitas brand launched a cannabis-infused sparkling water in California called Hop Water.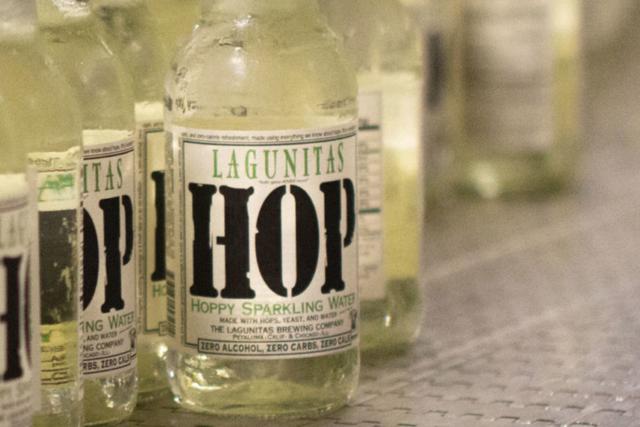 >Source: Lagunitas.
Coca-Cola
Coca-Cola disclosed it's considering adding CBD to sports drinks. Lately, Coca-Cola has been de-emphasizing its sugary carbonated drinks and focusing on healthier options. Coca-Cola appears to be on its way to validate the health benefits of CBD. We don't know a lot about Coca-Cola cannabis projects but we do know that the company is looking for new avenue of growth, and marijuana is worth exploring.
Shopify (SHOP)
Aurora Cannabis and HEXO has partnered with Shopify, a leading e-commerce company, to sell recreational and medical marijuana globally. They will leverage Shopify's platform to grow demand for its products, improve customer experience, and scale operations in domestic and international markets. I should mention that Shopify is anything but a cheap stock.
Cowen & Co. (COWN)
Cowen Inc. is currently trading around $16.5 per share with a market cap of $500m. They are the firm that took cannabis producer Tilray public, probably the hottest initial public offering this year. Cowen owns a small stake in Tilray. Cowen, a low-profile investment bank, was willing to make a bet on an emerging Canadian marijuana industry when its U.S. rivals wouldn't go near it. Cowen made it "Barron's pick of the week" not too long ago. According to Barron's, Cowen is valued at just five times projected 2018 earnings of $3.05 and for about 80% of its tangible book value of $20.40 a share. The shares trade at a discount to those of other smaller securities firms like Stifel Financial (SF) and Piper Jaffray (PJC). This is not Cowen's first marijuana deal. Cowen was a book-running co-manager on a convertible bond deal worth $600m Canadian dollars for Canopy Growth earlier this year. Its lead equity analyst covering the sector, Vivien Azer, is reputed to be the most prominent pot analyst on Wall Street.
I'm not an expert on Cowen, but I can tell you that its strong department is health care investment banking and it has underappreciated assets such as its stake in the management company that runs Starboard that could be worth in excess of $100 million. Cowen talked about rationalizing its business, free up non-core assets, and simplify the company. As Wall-Street and the public discover Cowen, the company could be more appreciated.
Scotts Miracle-Gro (SMG)
Scotts Miracle-Gro is the largest and most recognizable name in the U.S. consumer lawn and gardening market. The company sells a wide array of products aimed at helping consumers grow and maintain their lawns.
Scotts' hydroponics subsidiary, Hawthorne Gardening, became a strong earner for Scotts, as demand for hydroponics systems (important for cannabis cultivation) increased dramatically. But the year was a tough one for Scotts. When interest in cannabis started to ebb in the summer, the company took a beating. The stock price has slipped 25% year to date. Hawthorne had delivered a strong report card in past years, posting revenue growth of 152% in 2016 and 137% in 2017. They expect the Hawthorne subsidiary to post a 30% growth in revenue in 2018. Much of this will depend on the recent acquisition of Sunlight Supply, which Hawthorne took over for $450 million. Sunlight Supply is the largest hydroponics distributor in the U.S. While Hawthorne's growth numbers can be impressive, it contributed about to about 15% of revenue in 2017. Hawthorne contribution to revenues is expected to grow since it is well positioned to take advantage of increased demand for indoor gardening equipment stemming from the legalization of cannabis.
The emerging marijuana industry represents a lucrative opportunity for Scotts, which is well positioned to capture this segment of the market. On the other hand, the acquisition of hydroponics producers will be value-destructive if the marijuana industry does not expand due to regulatory constraints.
Tobacco Companies
In general, tobacco companies have been pretty quiet about the marijuana buzz. Tobacco companies are trying to diversify away from their core product. Imperial Brands' (OTCQX:IMBBY) website bears the motto: "From tobacco to something better." Imperial is behind popular cigarette brands like Kool, Salem, and Winston.
Imperial Brands PLC as appointed Simon Langelier, chairman of cannabis oil extract manufacturer PharamCielo, to the board of directors could open the door for Imperial to exploit more liberal legislation in the U.S.. Imperial Brands has invested in UK biotech company Oxford Cannabinoid Technologies, a firm licensed by the UK Home Office that researches, develops and licenses cannabinoid-based compounds and therapies. It's a sign that the tobacco industry is embracing cannabis, and positioning itself for a future with less demand for cigarettes. Snoop Dogg's cannabis-focused venture firm, Casa Verde Capital also invested.
Company executives from Altria (MO) said that the company is evaluating opportunities in marijuana. Altria owns Phillip Morris USA, which makes Marlboro cigarettes.
Here are some reasons why the tobacco industry could get into the cannabis business:
In many ways, the marijuana business is complementary to their existing tobacco business. They need growth. The war on cigarettes is taking a toll on sales. Tobacco companies already have huge distribution networks. They can easily add cannabis to those networks down the road. Tobacco companies are already experts at handling regulations. They are experts at lobbying. They have good lawyers.
Loblaw/Shoppers Drug Mart (OTCPK:LBLCF, L)
Loblaw owns the biggest pharmacy in Canada, Shoppers Drug Mart, and they are a licensed medical marijuana producer, opening the door for the pharmacy giant to dispense medical cannabis to patients. Shoppers has said that it has no interest in producing medical cannabis.
The pharmacy chain had already in recent months signed several supply deals with various licensed medical marijuana producers, including Aurora Cannabis, Aphria Inc., and Tilray Inc. Shoppers also partnered with Manulife Financial Corp. (MFC) to offer enhanced medical marijuana insurance coverage. Under the program, Manulife customers approved for medical marijuana coverage will be able to consult with Shoppers pharmacists at an Ontario-based patient care center about different strains of medical marijuana and the different ways to take it.
Meanwhile, industry groups such as the Canadian Pharmacists Association have said that pharmacies should play a leading role in the distribution of medical marijuana.
The parent company, Loblaw, is also looking to sell recreational pot once in Newfoundland and Labrador once it is legal
Johnson & Johnson (JNJ)
Johnson & Johnson Innovation has something called the JLABS in Toronto. Some chosen startups are 'resident' at the JLABS and among them are two cannabis startups, Avicanna and Vapim Medical. JLABS provide an ecosystem designed to give budding companies access to the resources and leadership they need to get off the ground.
Avicanna is a biotech company focused on medical cannabis. Vapium Medical is working to create a vape pen and connected app to help marijuana users track the effects of cannabis products and share their information with scientists.
Residents get access to lab space, a Johnson & Johnson mentor, and the recognition they need to recruit top-notch scientists and researchers. In exchange, Johnson & Johnson get a chance to work with an innovative company and invest if and when they see fit.
Just to be clear, at the moment Johnson & Johnson isn't yet invested financially in the cannabis startups but just being in the space significantly raises the chances that the pharmaceutical giant might eventually take that leap.
Hewlett-Packard Company (HPQ)
/Flowhub
HP's latest push to get into the booming cannabis market involves providing cannabis businesses with a payments system. It plans to do this through a partnership with Flowhub LLC. Basically it's a more official way to process all that cash dispensaries are collecting. HP is not exactly jumping in the pot business. They are selling the hardware to Flowhub, which is providing software solutions to the marijuana industry.
And here are two very alternative ideas off the beaten path: Qind (Private)
If you really want to get your hands dirty, you can join Qind and become an "ambassador". Instead of hosting a Tupperware party, you host a cannabis party. By the look of the stock photo provided by Qind it looks like a blast: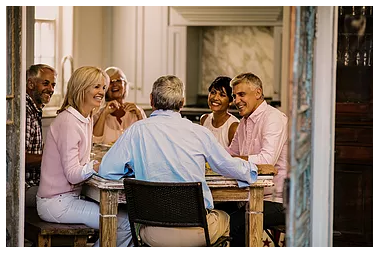 Source: A Qind cannabis party.
Marijuana Insolvency Lawyers?
There are going to be lots and lots of failures. Investors have grown indifferent to skimpy records for sales that would normally be viewed as red flags. A lot of companies are just startups with no proven products or concept. It's a risky space and my guess is lawyers will have a lot of work on their hands.
Red Flags
To me the investor's high on the marijuana sector is a red flag, and signaled that a sobering up may be imminent. The speculative craze is fueling a future crisis. This is the same story that repeats itself over and over. The tech bubble that ended in 2000, the pre-crisis U.S. housing craze, and the cryptocurrency bubble are some of the most recent examples of speculative manias. In each case, a defensible investment thesis - that technology will eventually dominate the economy, American housing prices could only move in one direction, and the blockchain was going to revolutionize everything - was extrapolated to a form of ridiculousness where no price was too much to pay for related investments.
There are some serious questions about just how profitable these companies can become under legalization. I think most investors do not understand what the space looks like, how competitive it is, what the margins look like. Distribution costs, advertising and sales taxes will further erode profit margins and cause price compression, possibly squeezing companies whose production costs are too high out of the market. Some of the companies that have gone public suffer from weak management, and investors need to be ready for a fall in marijuana prices because too many suppliers have entered the market. I see the valuations being attributed to places that have virtually no production, virtually no off-take agreements, which don't operate in multiple countries and have a very limited R&D.
Most predictions fail to consider the dizzying price drops registered in states like Colorado and Washington after they legalized marijuana. Prices were stable in the first year or so of legalization in Colorado and Washington, while supply caught up with demand. But then, cannabis behaved like other crop commodities; prices dropped in a supply glut. Rubin's New Leaf Data Services has a Cannabis Benchmarks index, which tracks weekly spot prices in more than a dozen markets, including Colorado, Washington state, and California. The volume-weighted index found that in states where weed is legal, spot prices dropped 20% over the course of 2016. The average in 2017 was 13% below 2016's.
Some players in Canada's mining and oil-and-gas sectors have reinvented themselves to tap eager cannabis capital. Relentless Resources Ltd. (RRL, OTC:RLLRF) has recently transformed itself into a hybrid cannabis and oil-and-gas producer called SugarBud Craft Growers Corp. The company has raised about $15 million in stock and rights offerings, and $17 million in debt. The CEO, Craig Kolochuk, said "Instead of analyzing barrels, we're analyzing ounces".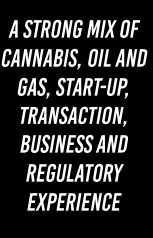 Source: Relentless Resources
Are you thinking of short-selling? It's not that easy. For many, the short case is that investors are getting ahead of themselves, bidding up nearly every company in the industry as if it will become one of the top two or three players in a mature cannabis space. Actually, short selling, however, can help investors who hold the stocks and hope for gains: As a well-shorted stock rises meaningfully, turning the trade into a loser, a short seller often decides to unwind a short position by purchasing the shares on the open market. That drives the price even higher and creates what's called a "short squeeze."
There's another concern that is discounted by investors: The one buyer in some provinces, like Quebec, will give legal producers another pricing headache. Licensed producers will have just one large customer, which will dictate what they are paid, and I believe it will disappoint high-cost growers. Vic Neufeld of Aphria said on an earning call "what they're willing to pay licensed producers is absolutely going to force compression in pricing and therefore margins." The Quebec government stores have concluded some agreements where they pay $4.50 per gram, that's not much.
Marijuana stocks are highly volatile, their valuations are divorced from reality, and a big letdown for investors is likely ahead as the companies fail to meet their earnings and revenues expectations. It's a space that is hard to navigate. You can't pull out a financial model and rationalize the stock prices right now. Investors need to learn to assess the hype versus the real potential. After recreational weed is legal, I expect the euphoria to diminish over time, and marijuana companies will trade more based on their fundamentals (cost, margins, distributions, market, profits etc.). This is similar to a junior mining company transitioning from exploring to producing.
Summary
Mark Twain famously said that "history doesn't repeat itself but it often rhymes". With the marijuana sector we have a very good story. A story that is easy to defend and justify: "e.g. Cannabis will revolutionize the way we treat cancer patients".
There's only one intelligent form of investing, and that's to figure out what something is worth and try to buy it for less. Investing in the marijuana industry is not different in that regard. As an investor I approach a valuation like I would be buying the whole business, I depend on cash flow to determine the value of an investment and need not depend on the whims of future buyers, as it's the case with the marijuana sector. Therefore, my interest lies in owning cash-producing assets. Simply put, I look at a company, I look at the business, I figure out what it could make in a normal environment, and I figure out what that company would be worth.
If you can make those judgments on the basis of conservative assumptions and still end up with good room for profit, then that's a source for margin for error. I think that the margin for error comes primarily from being able to use conservative assumptions, and then still be looking at a generous rate of return.
If you are a current marijuana investor, I have a question. Have you done your homework? Do you have a valuation framework of your investments? Did you apply a margin of safety to that valuation? If you have done your homework and you think this is a 10-15 year wave, well maybe it's opportunity to explore. But I have not done my homework and I will not touch it.
I'm also worried about the class of shareholders that makes up ownership. The space is filled with investors entering the sector with thoughts of becoming instant millionaires. Investors are prematurely deciding which companies will dominate a new market before a single ounce of recreational pot is legally sold in Canada. Some investors have the potential to make some serious money, but most will lose their shirt. The reason is that marijuana stocks are very volatile and often move mostly on sentiment as well as on market mechanics. Emotions drive markets. An average investor does not understand market mechanics.
The long-term prospects for marijuana are very positive. The question is how much are you willing to pay for it? However, there are headwinds in the short term because, on a fundamental basis, the present valuation of marijuana stocks cannot be justified.
Disclosure: I/we have no positions in any stocks mentioned, and no plans to initiate any positions within the next 72 hours.
I wrote this article myself, and it expresses my own opinions. I am not receiving compensation for it (other than from Seeking Alpha). I have no business relationship with any company whose stock is mentioned in this article.
Additional disclosure: Do your homework.
Editor's Note: This article covers one or more stocks trading at less than $1 per share and/or with less than a $100 million market cap. Please be aware of the risks associated with these stocks.
Source : https://seekingalpha.com/article/4211744-getting-weeds